Update on the 06.12.2021
Information sent to CFBL's community
26.11.2021
Several positive cases of Covid-19 were reported at CFBL within the last 10 days. Primary pupils currently face the higher rate of infections, however, secondary students and staff are also affected.

Families of concerned classes are informed by email and the measures put in place/recommended are taken on a case by case basis, depending on the number of children infected but also on their age. We worked closely with Public Health England in order to offer the best response and to avoid the creation of a cluster at CFBL.

People who tested positive generally display only little or no symptoms at all, hence the importance of continuing with twice weekly testing for secondary students and staff.

The recording of the result is a key factor to help us monitor and limit any outbreak.
Mask wearing
Since 01/12/21, wearing a mask is recommended in the school for Secondary students, Staff and visitors. The possibility of wearing a mask for the primary students will be given to those who wish. It is up to parents to provide masks for their children.
In cases of suspected Covid-19, children will automatically be fitted with a mask until the parents arrive.
Management protocol for pupils with symptoms / tested positive for covid-19
Graph updated on 07.01.2022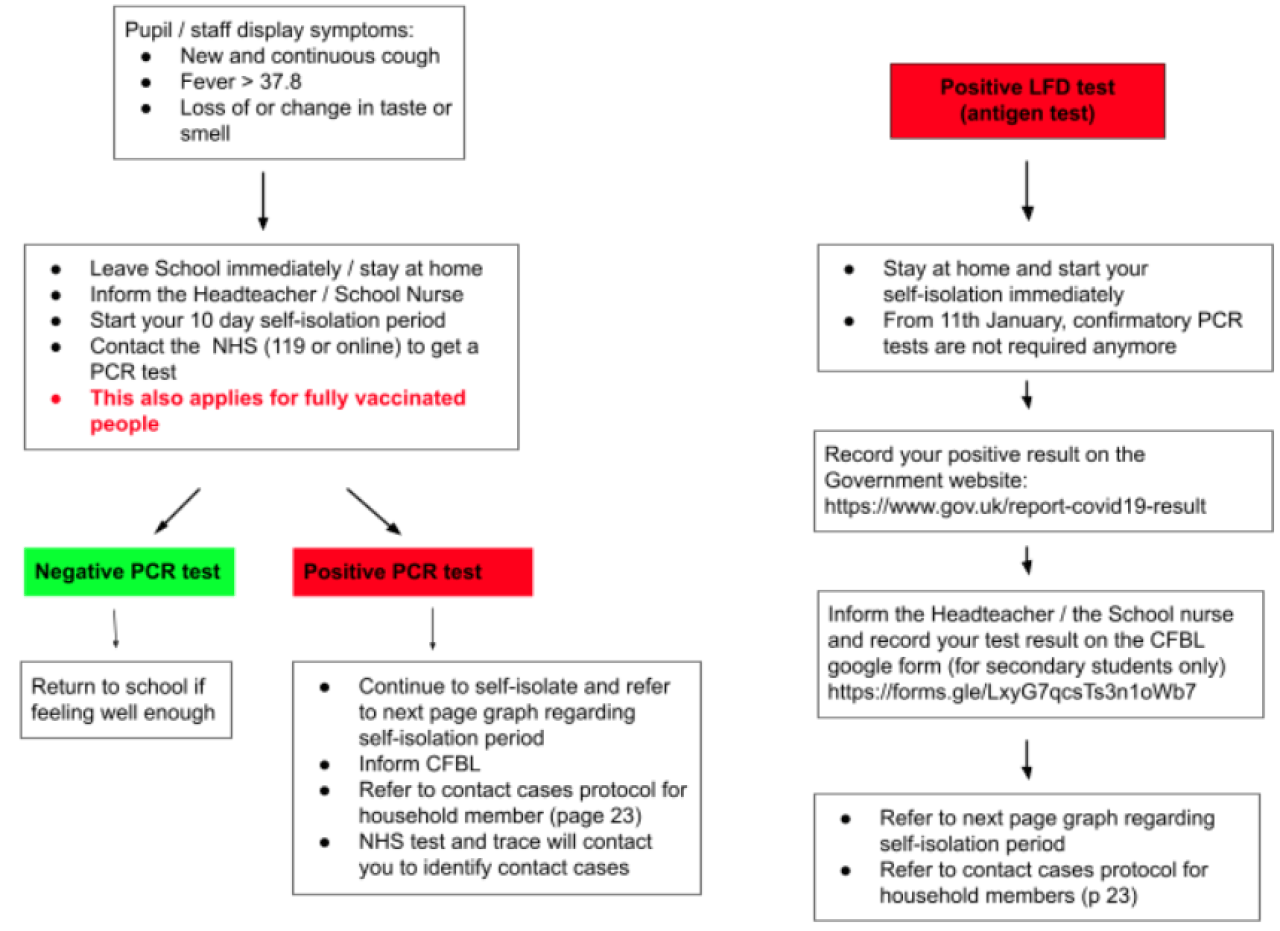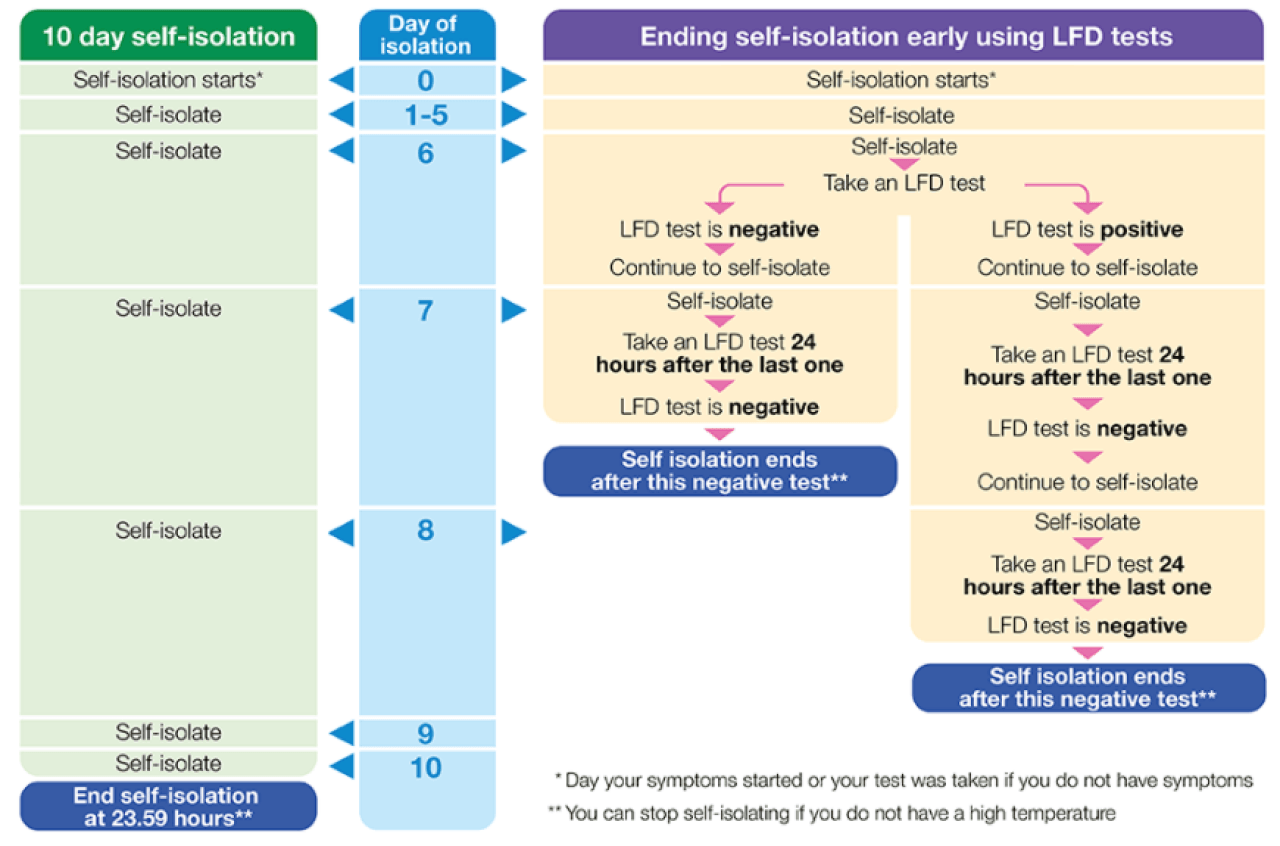 Management of contact cases
From 18th July 2021, schools will not do contact tracing anymore.
NHS Test and Trace will contact the positive case in order to identify and inform any close contact.
Guidance for contact cases
Graph updated on 07.01.2022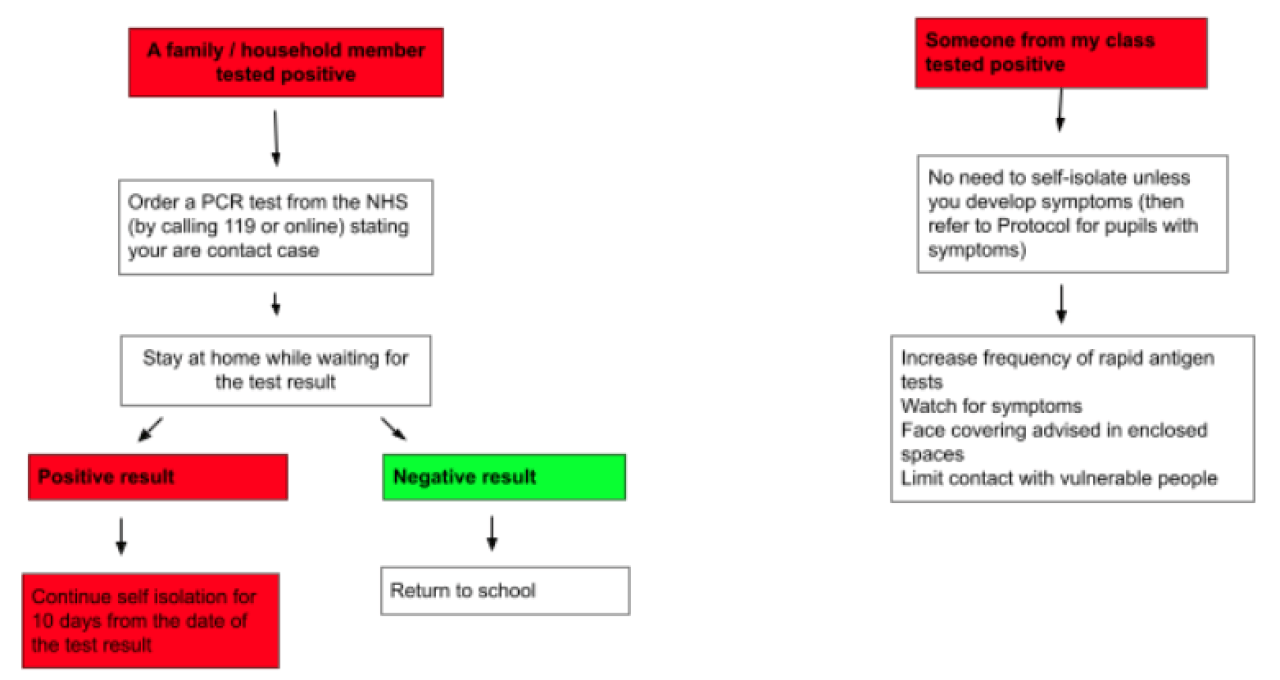 Outbreak management Plan at CFBL
Threshold
3 Covid-19 positive cases in a class or 5 Covid-19 positive cases per year group
Plan if cluster identified (as defined above)



NURSERY CLASS

PRIMARY CLASS

SECONDARY CLASS

STAFF

FACE COVERING

NO

ADVISED

YES

YES

ANTIGEN TEST

ADVISED

ADVISED

YES -DAILY

YES-DAILY

PCR TEST

IF IDENTIFIED AS CLOSE CONTACT OR SYMPTOMATIC OR FEELING UNWELL

CLUBS

CANCEL CLUBS MIXING DIFFERENT YEAR GROUPS

N/A

EXTRA MEASURES

REVIEW OUTINGS, SOCIAL EVENTS




FOLLOW GUIDANCE FROM LONDON CORONAVIRUS TEAM CENTRE AND LOCAL HEALTH PROTECTION TEAM

PLAN FOR SUBSTITUTES




MEETINGS TO TAKE PLACE REMOTELY
Where can I get a Covid test?
PCR tests (to confirm a positive lateral flow test result, symptomatic people or contact cases): by calling 119 or online
Covid vaccination
1st dose:
Offered to all children aged 12+ at CFBL on 11th October 2021 (97 students vaccinated on site)

Students who were absent or non eligible at the time can now book their appointment online on the NHS website: Book a Covid vaccination appointment

Children aged 12+ who recently tested positive for Covid have to wait for 28 days before receiving their vaccine
2nd dose:
Latest advice from JCVI (Joint Committee on Vaccination and Immunisation): a second dose (Pfizer) will be offered to 12-15 years old but no sooner than 12 weeks after having received the first dose - further information will be provided shortly. No information as yet if the second dose will be given within schools or in vaccination centres.

Children having a medical conditions which put them at risk from Covid-19 or living with someone who is more likely to get infections should have received a letter from their GP to get their 2nd dose. If not, please contact your GP (the second dose should be administered 8 weeks after the first dose)
Positive cases at CFBL
You will find below a chart with the number of people testing themselves (staff and secondary students - data from the CFBL google form) and the number of positive cases at CFBL: 
Testing
Covid-19 Protocols
Please click here if you want to read / download the full protocols (updated on 7 January 2022).