Secondary report
94% of pupils attended their meetings on day one!
Our pupils meet daily their teachers and classmates online at 9 am via Zoom. Their usual schedules are maintained as usual and pupils are engaged in structured, interactive classes, autonomous work and extra-curricular activities. It is a great opportunity for our pupils to develop new skills.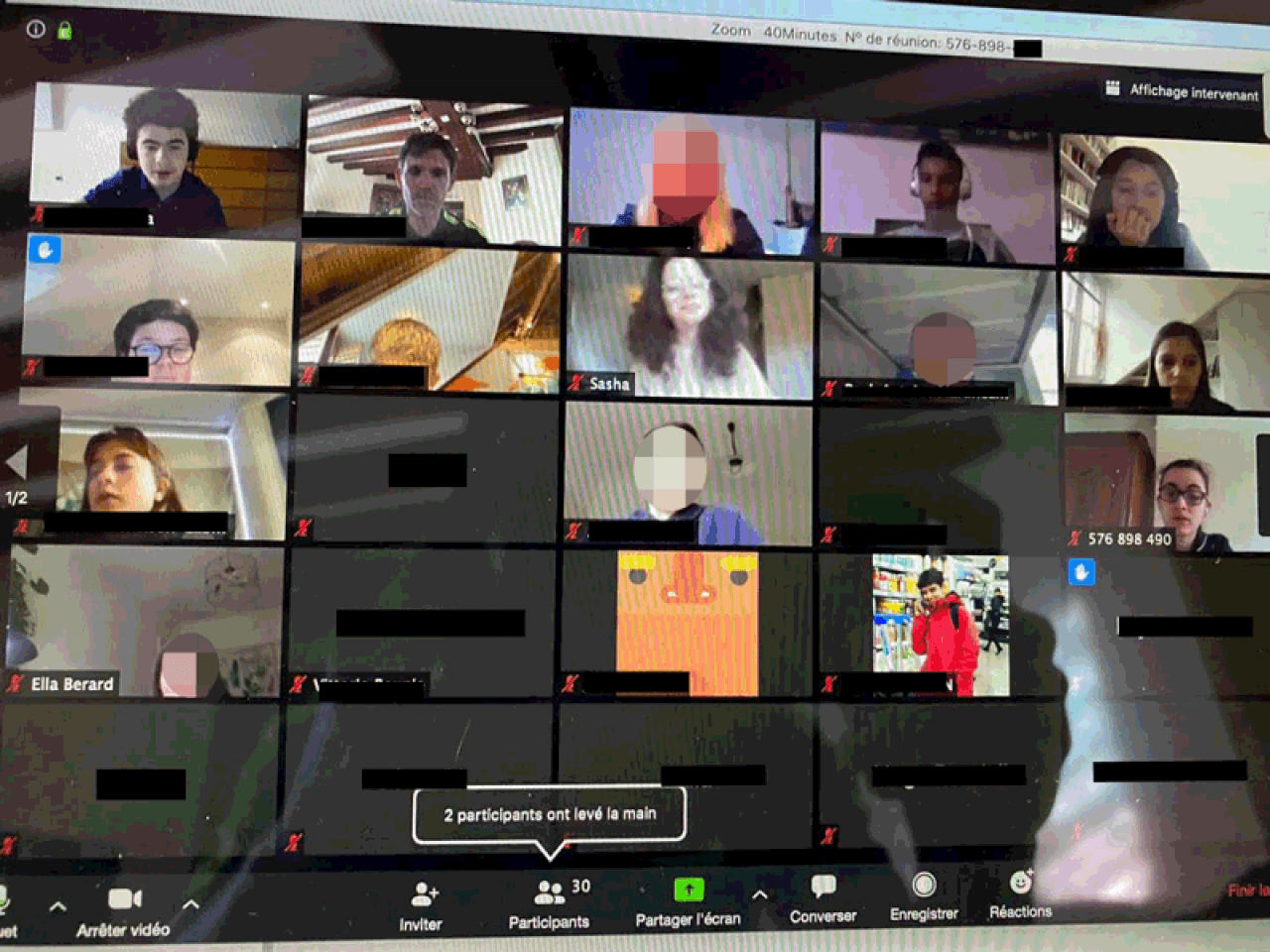 Parents' feedback
From a secondary pupil's parent
"Ce petit message pour vous dire combien je suis impressionnée par le système que vous avez mis en place en si peu de temps. Bien sûr, il y aura quelques couacs, mais ce matin, à l'heure dite, tous mes enfants étaient connectés devant leur ordinateur, face à leurs professeurs qui leur expliquaient leur nouvel environnement de travail. Et quand j'ai fait ma tournée pour vérifier que tout était en place, ils m'ont tous dit : "Chut maman, on travaille!"
Bravo!!!"
From a 6D pupil's parent
"Les enfants ont bien aimé retrouver leur classe en ligne pour la première fois !
Un grand merci à vous et à tous les enseignants du CFBL d'organiser très vite une continuité d'enseignement. 
La réunion quotidienne avec vous, comme professeur principal, sera dans la durée de cette crise, essentielle et aidera les enfants à trouver une normalité et à partager leur ressenti.
Bon courage à vous et à votre famille pour ces difficiles prochaines semaines !"
From both primary and secondary pupils' parent
"I hope you are both keeping well and healthy. I just wanted to write a quick note to let you know how impressed I am with the incredible switch to distance/e-learning that CFBL has made for the students. During this difficult time, the feeling of routine and continuity with the children's learning is making our days feel more normal. 
I wanted to let you know that we recognise the effort this must have taken with organising and on the part of the teachers. I have written separately to my daughter's class teachers and to my son's homeroom and maths teacher to thank them but please could you pass on our thanks to all involved? We are so grateful and appreciative of the enormous effort that has been made.
Best wishes for everyone's health!"
From a 6A pupil's parent
"Merci au professeur principal (et bravo pour ses calls du matin, cela rassure énormément les enfants de pouvoir lui adresser toutes leurs questions avant d'attaquer leur journée).
Le moment viendra où nous pourrons vous remercier chaleureusement, vous les professeurs qui gérez si bien cette situation angoissante pour tout le monde…"
From a primary pupil's parent
"Je tenais a féliciter toute l'équipe CFBL au complet pour l'excellente gestion, communication et plan de remediation suite à cette crise sanitaire sans précédent.
Je tiens à souligner le grand professionnalisme et remarque une très rapide adaptation et aisance de l'équipe enseignante quant à l'utilisation des outils de téléconférence.
Ce Go Live, selon le jargon informatique, a été une grande réussite.
Je n'ai qu'un mot BRAVO."
Teachers' feedback
5A's Main Teacher
"Les vingt-huit élèves étaient tous présents ce matin. Je leur ai bien expliqué toutes les fonctionnalités de l'écran Zoom. Ils/elles savent qu'il est strictement interdit de quitter la réunion, de s'amuser avec les boutons "mute", d'intervenir sans avoir utilisé la fonction "lever la main" et d'avoir une tenue négligée.
Ils savent qu'ils/elles doivent préserver un environnement de travail avec un fond sonore quasi silencieux : téléphones éteints, porte de la pièce fermée, etc.
Pour les fonctions "lever la main" et "chat" : tout fonctionne parfaitement bien."
Professeur principal – 5C
"L'accueil des 5C s'est bien passé, et ils avaient plein plein de questions… Entre 28 et 29 élèves se sont connectés."
Professeur principal – 6A
"Tous les élèves de 6eA présents ce matin (1 heure) ! Bilan positif sur l'assiduité et sur les réponses à leurs inquiétudes."
Professeur 4eme Option International  
"Full house this afternoon which is great news. Pupils were attentive although a little tired at the end of the day. They'd had a lot of screentime and my activity was also on Google Classroom. 
A couple of comments: they should try to log on time and also refrain from having snacks while I am talking about rural Britain in the 18th century 🙂 Relieved zoom worked well!"
In 4C :