Introduction
The teaching programme in secondary continues to emphasise proficiency in English and the intensive learning of other modern languages.
From 6ème, all students have five hours of English and British culture classes. The aim is to enable as many students as possible at the end of  3ème to sit the tests for the French national schools' certificate (Diplôme National du Brevet – DNB), International option.
CFBL also offers teaching completely in English for some non-linguistic subjects, such as the visual arts, music and information technology.
CFBL also attaches great importance to other modern languages. Spanish, German and Mandarin are offered as second modern languages from 6ème. Beginners Mandarin is offered to all students in 4ème and 3ème who have not choose it as second modern language.
At the end of 3ème, our students move on to a French lycée in London (mainly the Lycée International Winston Churchill, but also the Lycée Charles de Gaulle) or another school in France or overseas. Some students continue in the English educational system.
Parents' Handbooks & rules of procedure
Please download here the parents' handbook – released in July 2021 – and here the rules of procedure for 2021-2022.
Curriculum
Compulsory subjects
Hours per week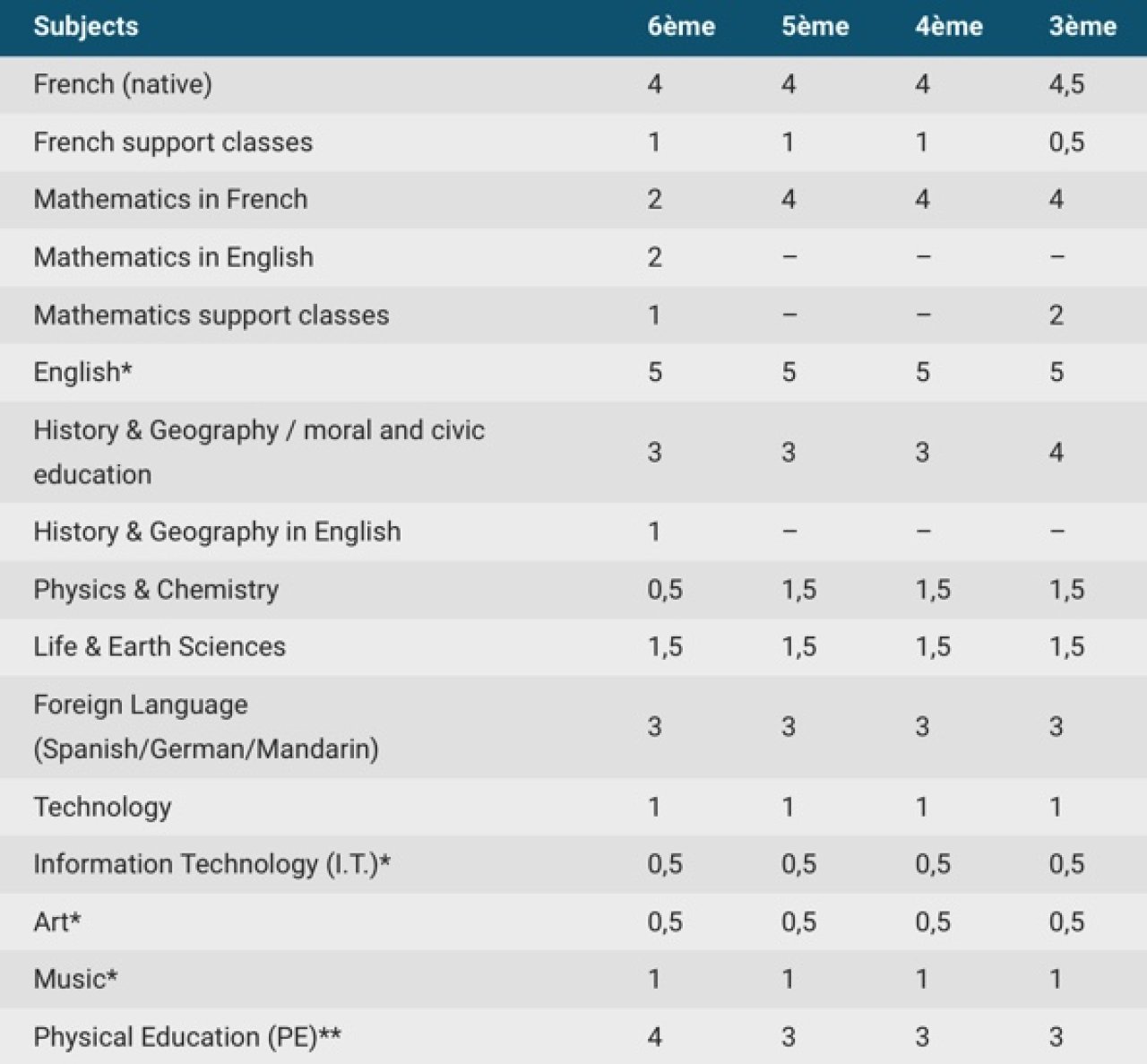 * Classes taught in English
** Classes taught in English or French
Optional subjects

* Classes taught in English
Duke of Edinburgh Award
The Duke of Edinburgh is an national programme that seeks to develop students' soft skills and enhance their CVs and university applications. Students learn how to work as a team, be commited and dedicated, how to take on responsibility. They are also given opportunities to grow and mature. This is a paid-for option (£200 per year).
If selected, students will participate within the Bronze Award, which requires them to complete four separate sections:
Volunteering: 3 months* 
Volunteer to give time to help people in your community or society, the environment or animals. For volunteer activities you need to choose to give time to do something useful without getting paid (apart from expenses).

Physical: 3 months*
Taking part in a physical activity.

Skills: 3 months*
Developing a skill helps you get better at something you are really interested in and gives you the confidence and ability to use this skill both now and later in life

Expedition: 2 days / 1 night (plus a training expedition: 2 days/1 night)
Hiking, map reading, camping overnight and cooking in groups. Two separate locations for these expeditions.
*one of these 3 sections must take place over 6 months
Students will meet with the DofE Leader at CFBL (Mr Canto) every week to help guide them through each section, and ensure all administrational work is completed before final expedition. Training will be given on map reading, using a compass, planning routes, preparing and packing equipment (including packing their rucksacks), assembling of tents, use of stoves, and basic meal planning and preparation. In addition, all students will learn basic first aid training (all students must have their own first aid kit on expeditions).
There will be a practice expedition in Octobre and final expedition in spring, both for 2 days / 1 night each.
Brevet results
| | | | | | |
| --- | --- | --- | --- | --- | --- |
| Year | Entered | Passed | Quite good | Good | Very good |
| 2012 | 37 | 35 | 10 | 14 | 11 |
| 2013 | 72 | 70 | 16 | 28 | 20 |
| 2014 | 84 | 84 | 21 | 29 | 28 |
| 2015 | 86 | 85 | 23 | 24 | 22 |
| 2016 | 72 | 72 | 16 | 31 | 25 |
| 2017 | 80 | 80 | 6 | 16 | 57 |
| 2018 | 60 | 60 | 6 | 14 | 38 |
| 2019 | 70 | 70 | 9 | 10 | 50 |
| 2020 | 56 | 55 | 4 | 11 | 37 |
| 2021 | 58 | 58 | 10 | 10 | 38 |
School hours
During the term, the school runs Monday through Friday.
Each school day is divided into nine 50-minute sessions:

Students are welcome to arrive from 8:15 onwards.
Breaks
There are two breaks during the school day: 10:15-10:30 and 14:05-14:20.
Students have lunch from 11:25 to 12:15, from 12:20 to 13:10, or from 13:15 to 14:05, depending on their schedule. During the midday break, pupils can have lunch and play on the playground, go to the library or go to lunch-time clubs.
Absences
If your child is absent, please email us (viescolaire@cfbl.org.uk) and mention the student's first name, last name and class, and the reason for their absence.
After an absence and before going back to class, the student will have to give the Deputy Headteacher for Secondary School a letter signed by his or her parents (or legal guardian).
In case of a scheduled absence (for example, a doctor's appointment), please send an email to viescolaire@cfbl.org.uk at least 48 hours before the scheduled absence.
A medical certificate is required for an absence due to illness lasting more than one week.
Textbooks and supplies for 2021-2022
Below is a list of textbooks and supplies for the 2020-2021 academic year. Please note that the PE kit is mandatory for all students. Students will be given a day planner, so it is not necessary for them to buy one. We kindly ask you to provide a water bottle for your child.ren as CFBL is trying to reduce the use of plastic.
Certificate of school attendance
Should you need a certificate of school attendance, please contact info@cfbl.org.uk. Do not forget to add the full name of the child, their date of birth, their class and the date of their first day at CFBL (or arrival and departure dates for former students).